On November 1, 2022, about a hundred Palm Beach Country patriots gathered in the Palm Beach Convention Center for the Mamas on a Mission event presented by Moms for DeSantis. I attended the event with my mom, Pamela Reeves, and Meghan Walsh. Meghan stated that the Moms for DeSantis event was her first ever chosen political event. Several amazing speakers were there, including Florida's First Lady Casey DeSantis. The event kicked off with an inspirational prayer by Pastor Lydia Maldonado of
F.W.C. World Outreach
. The next speaker was Mary Daniel, a Jacksonville woman who took a job as a dishwasher to gain access to her husband's care facility during the Covid Plandemic. Mary's story is extremely inspirational as it often only takes one squeaky wheel to get some grease. Inspired by Mary's story, Gov. DeSantis signs bill into legislation to ensure family's rights were reinstated. Here is the press briefing on the Patient's Bill of Rights which should have already been covered by our Constitution: Meghan and I approached Mary and thanked her for standing up for her rights.We also asked Mary if she could help us make Governor Ron DeSantis and First Lady Casey DeSantis aware of the changes that desperately need to be made in the Florida Department of Family and Children Services aka as CPS.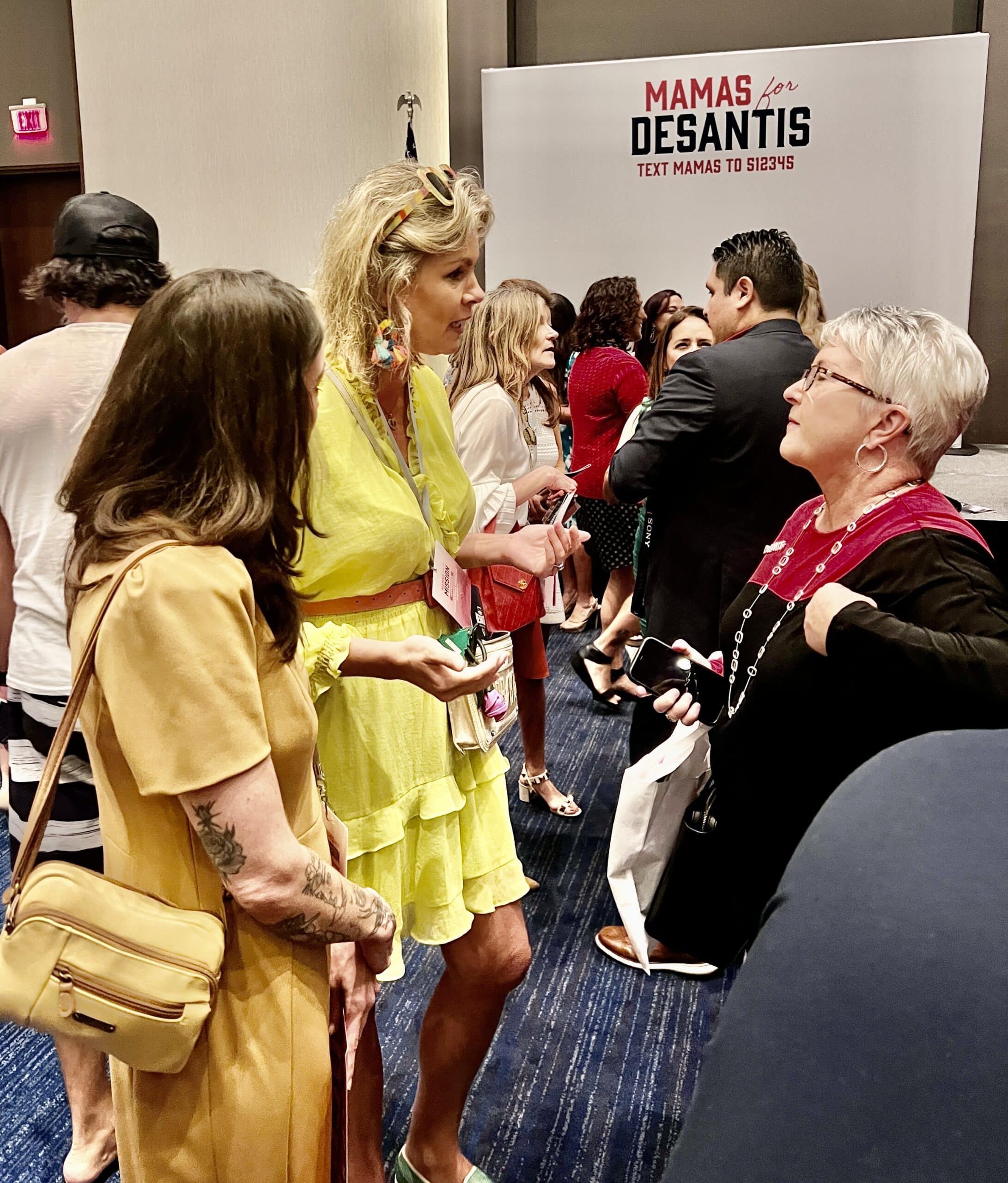 Mrs. DeSantis says her children Madison, Mason, and Mamie are a challenge on the road as they tour each city. Often Ron takes their son Mason with him and he's fallen asleep under the podium. She also talked about the challenges they have to face while bringing up their children at the historic governor's mansion in Tallahassee. Casey said, "We're just going to make sure that they don't destroy any of Florida's irreplaceable history because there are so many wonderful, neat artifacts around," Casey DeSantis told Tallahassee magazine in 2019." "You go into the dining room, you see stuff from the USS Florida. You see the late 19th-century wallpaper, and I don't think that orange crayon would look good on that," she added. She said that they tried to baby-proof the Governors Mansion, but there are so many nooks and crannies, and the kids tend to find all the nooks and crannies. In the Ron DeSantis Playbook, Mrs. DeSantis would like to continue her mission to support Florida's Foster Families. Meghan would like to keep children out of the foster system as a whole as it cost the tax payers a lot of money plus its where her father John Walsh states that 80% of trafficking victims originate.
The Continue the Mission
initiative recruits former law enforcement officers, veterans, and military spouses to be child protective investigators, Department of Children and Families case managers, and mentors to children in need. This initiative provides flexible career opportunities for former law enforcement, veterans, and military spouses who still have a desire to serve their communities.
Mrs. DeSantis Initiatives
go on to state:
SUPPORTING FLORIDA'S FOSTER FAMILIES
Governor DeSantis has shown his commitment to supporting foster families by increasing monthly payments to those who serve as caregivers to foster children, increasing monthly support to cover childcare for foster children, and expanding postsecondary education opportunities for foster children. The Freedom First Budget includes nearly $361 million to provide services for foster parent support and adoption services. Because of this commitment, Florida has the best results for child permanency among the country's ten most populous states:
Average length of time in foster care

 

Percentage of children in foster care for more than five years

 
Percentage of children waiting for adoption who have spent over five years in foster care

 

Average length of stay for children waiting to be adopted

 
Percentage of children adopted from foster care by relatives

 
In August 2022, First Lady Casey DeSantis launched Florida Cancer Connect. During her own battle with cancer, she realized the need for a centralized hub for patients and caretakers to access information on cancer care, detection, prevention, research, and treatment. The Florida Cancer Connect website, flcancerconnect.com, provides those battling cancer with tools and information, including national statistics, prevention materials, and event opportunities to bring greater awareness to cancer.
FLORIDA CANCER CONNECT WILL HELP FLORIDIANS:
The Hope for Healing initiative was launched in May of 2019. It is a multi-agency effort and community collaboration to address mental health and substance abuse by creating a simplified process for Floridians, particularly children, veterans, and first responders, to locate resources and information.
After the event, after speaking with Mary,  the Holy Spirit directed me to introduce ourselves to the amazing Pastor Lydia who has a testimony of her own. We'll try to get her on the podcast for an interview soon.